Welcome to Precision Autobody
Precision Auto Body Repairs Ltd. has been in business for over 40 years. Serving Saskatoon and surrounding areas, we specialize in collision repair, windshield replacement and paintless dent repair. At Precision Auto Body quality is no accident, it's a commitment!! Our experience and knowledge in collision repair will ensure your vehicle is repaired to the highest standards. We repair all makes and models of vehicles, both import and domestic. We also specialize in large truck and semi-trailer repairs.
At Precision Auto Body we are dedicated to continuing education, which ensures your repairs are completed with the most current procedures and equipment. We're proud to be one of the few CAA approved auto collision repair facilities in the province. We pride ourselves with providing quality workmanship, ideal results,going over and above for all our customers and giving back to the community!
Not Sure Where to Start? We've Got You Covered! Major Collision Assessment
Report your accident to SGI either by phone 1-800-647-6448 or report online at www.sgi.sk.ca/eclaim. If your claim is eligible, you can have your estimate done at our body shop. If not, SGI will set up an appointment at one of their claims centres to complete the damage estimate. Once your estimate is complete, we can book you in for a repair appointment. Call us at 306-664-4156 or email your claim to customerservice@precisionautobody.ca Hail Damage/ Repair
Paintless Dent Repair (PDR) is used to push the dents out of panels caused by hail stones. If the paint is intact after the storm, PDR is the way to go! This technique involves 'massaging' the dents out from the interior of the panel and results in a completely smooth finish. When the dents are too large or if there are too many of them, the panel can be replaced and refinished to pre-accident condition. Vandalism Solutions
If your window has been smashed, we can replace it for you! Give us a call or stop by for us to look. We can also fix any scratches or damage done to your vehicle from a vandalism incident.
You can make an insurance claim for this damage! Glass Repair/Replacement
Windshield repair technology is a rapidly advancing industry, so the ability to repair large chips changes often and can vary depending on the repair company. For the most part, stone chips smaller than a quarter can be repaired. Stop by and we will have a look to see if we can repair your chip!
If the damage is more than just a chip, we can replace the windshield. Spray Booth/Custom Paint
Any color on any surface.
Our advanced facility is over 15,000 sqft. with over 30 stalls. We have two 50 ft spray booths and our refinish technicians are experts in paint.
Our facility is equipped to handle all cars, trucks, SUV's and even Semi-trailers. Color Matching Perfection
Our refinish technicians make sure the paint is the perfect match before they spray your vehicle. Using a state of the art colour camera to match the colour properly, a 'spray-out card' is then held against the vehicle in proper light to make sure it is a match. Only once it gets the seal of approval is that colour sprayed onto the vehicle. This ensures a perfect match every time!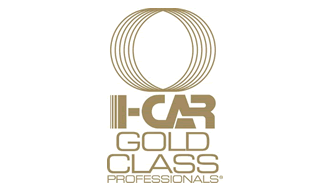 ICAR Gold Class

When your car has been in a collision, getting it repaired properly is critical for your family's safety and your peace of mind. But how do you know if a shop has the up-to-date knowledge to repair your vehicle safely? The Gold Class designation lets you know a collision repair shop has trained technicians who know how to repair your vehicle properly. Approximately 20% of collision repair shops currently complete the rigorous training requirements needed to meet the Gold Class standard. Businesses that earn Gold Class status are proud of their accomplishment and will typically display the Gold Class logo prominently in their shop and on their website to help you identify them as highly trained repair facilities.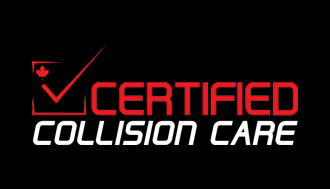 OEM Certified
Here at Precision Autobody we are OEM Certified. Without using Google you are probably wondering what the heck does that mean.
OEM Certification stands for original equipment manufacturer. OEM certification means that our body shop has been acknowledged to only use factory-approved parts. It also means that at Precision we have the correct equipment to install those parts, and uses only factory-approved procedures.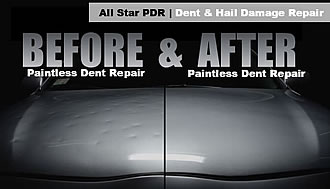 Paintless Dent Repair – Hail
Can paintless dent repair fix hail damage? A wide range of damage can be repaired using Paintless Dent Repair as long as the paint surface is intact.
The most common practical use for Paintless Dent Repair (PDR) is the repair of hail damage, door dings, minor creases, large dents and bodylines damage.
What our satisfied customers are saying about us
Quite possibly the best!
"I would like to give a big thanks to Joe and Jen and their entire team at Precision Autobody, every time I take a vehicle to them it comes back looking like I just bought it from a dealer. Thx again!"
L Politeski
[/db_pb_slide]
Quite possibly the best!
"The service at Precision Autobody is excellent from estimate through to completion of the work! Great, efficient communication and customer service from the ladies that work in the office. My vehicle looks great! Thanks to the team at Precision!"
A Holder
[/db_pb_slide]
Quite possibly the best!
"It was an "EXCELLENT" service!! Kudos to all the staff..You guys work above & beyond! I couldn't recognize my vehicle when I came out the office, it was sparkly clean in/out!! (I have a toddler and could'nt keep up the mess? Highly recommended!✍??? THANK YOU SO MUCH!❤"
A De Asis
[/db_pb_slide]
Quite possibly the best!
"The Precision Auto Body team is amazing. They helped dealing with SGI and kept me in the loop the entire time our vehicle was in their shop getting repaired. All of the staff I dealt with were very professional and friendly. Let Precision Auto Body help you and get your vehicle repaired properly."
D Terichow
[/db_pb_slide]
Quite possibly the best!
"I brought my truck in for a paint job on a rear panel from some vandalism to Gino. Gino took care of all the details and provided a good price, and was well taken care of. Janelle is also another that was great to deal with! The end result looked awesome, and my truck was also cleaned top to bottom. 10/10 in my books, and I will make sure they get my repeat business when I need something done. Thank you!!!!"
J Bennett
[/db_pb_slide]
Quite possibly the best!
"Very friendly and efficient service. Gave constant updates on the progress of my vehicle, they were…"
CIndy Weekes
[/db_pb_slide]
Quite possibly the best!
"Had my trucked taken there after a pretty good fender bender. They did an amazing g job."
Greg Roffey
[/db_pb_slide]
[/db_pb_fullwidth_slider]

You must first report your accident to SGI. You can do this by phone: 1-800-647-6448 or report online. During the claim reporting process you can schedule an appointment with SGI for your estimate OR you can have US at Precision Auto Body write the estimate. If WE complete your estimate we will book you in for repairs as soon as the estimate is complete, or if your estimate is completed by SGI, call/email us with your claim information to book in for repairs. Call us at 306-664-4156. To email your claim click here. Please include your name & contact info.
Do You Have Any Questions?
I got into an accident, what do I do now?
Contact SGI by phone or online and set up your claim. Once the claim is set up, your SGI Adjuster will call to book you for an estimate appointment at one of their claim centres or ask you which Auto Body shop you would like to take it to for your estimate.
If SGI writes your estimate, give us a call, send us an email, or stop in once you have the paperwork and we can book you in for repairs.
I have my appraisal/estimate from SGI, what do I do now?
Once you have your estimate from SGI, you can stop by with the paperwork, email it to us, or give us a call and we can download it. Once we have the estimate, we can book you in for a repair appointment.
Are you able to write the appraisal/estimate instead of me going to SGI?
Yes! Once you make your claim, ask your auto adjuster if your claim is eligible to be estimated at a body shop. Once you get the go ahead, SGI will send us an electronic file, and we will call you to book in for the estimate as soon as we get it!
Do I have to contact SGI to have my windshield replaced through my package policy?
Nope! Just give us a call or stop by with your SGI package policy info so we can book you in, we will handle the rest. If your package policy is through SMI or Cooperators you will have to report to them first and then contact us with your policy info and we will handle the rest.
Do you provide courtesy vehicles?
Yes! If you are not approved for a rental with SGI or do not have loss of use coverage on a package policy, we can set you up with a courtesy car at no charge, aside from re-fueling upon return.
How long will my repairs take?
Once we have the estimate, we can let you know how long repairs are expected to take. Of course, once the vehicle is in the shop, this can change based on any additional/hidden damage we may find that would be related to the SGI claim. We try our best to always keep you posted on any changes or delays, and you are always welcome to call us to check in!